Your garage door is one of the most important components of your home. Not only does it provide security and protect your belongings, but it also helps to insulate your home and keep out unwanted pests. As a result, it's important to keep your garage door in good working condition. Unfortunately, garage doors can be susceptible to damage from weather, wear and tear, and even accidents. When this happens, it's important to hire a professional for your garage door replacement and repair needs. Why? Let's discuss this below.
1. Safety
One of the most important benefits of hiring a professional for garage door replacement is safety. Garage doors are very heavy and can be dangerous to handle without the proper training and equipment. In addition, replacing a garage door requires working with electrical wiring, which can also be dangerous if you are unfamiliar with it. By hiring professional replacement services, you can rest assured that the job will be done safely and correctly.
2. Quality
While it is possible to install a garage door yourself, it is not advisable. Replacing a garage door is a big investment, so you want to be sure it's done right. Garage door experts have the experience and knowledge to ensure that the door is installed correctly and that all the necessary hardware is in place. In addition, a professional will be able to identify any potential problems with the door before they occur. As a result, hiring a professional for garage door replacement is the best way to ensure quality and avoid costly repairs down the road.
3. Convenience and Peace of Mind
When it comes time to replace an old or damaged garage door, hiring a professional is the most convenient option. Not only will they take care of the entire process from start to finish, but they will also be able to provide guidance and advice on choosing the best door for your needs. In addition, professionals have the necessary tools and equipment to complete the job quickly and efficiently. With their help, you can be sure that your new garage door will be installed correctly and will work properly for years to come. Best of all, hiring a professional gives you peace of mind knowing that the job will be done right the first time.
4. Warranty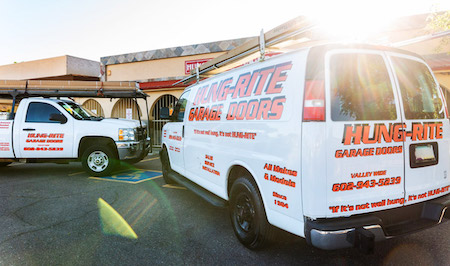 A warranty is an important consideration when deciding whether to replace your garage door yourself or hire a professional. If something goes wrong with a door you've installed yourself, it will be up to you to figure out how to fix it or pay for the repairs. However, if you hire a professional for garage door replacement, most companies will include a warranty on their work. This means that if anything goes wrong, the company will come back and fix it at no cost to you. In addition, many garage door companies offer extended warranties that cover not only the door itself but also related components such as the garage springs and garage door openers. As a result, hiring a professional for garage door replacement can provide important peace of mind in knowing that your investment is protected.
5. Emergency Services
Everyone knows that emergencies never seem to happen at a convenient time. This is especially true when it comes to your garage door. Whether it's a broken spring in the middle of the night or a misaligned sensor on a Sunday afternoon, you can't always wait for regular business hours to fix the problem. Fortunately, Hung Rite Garage Doors offers 24/7 emergency garage repair service. Just give us a call, and one of our skilled technicians will be on their way. We know that a broken garage door can be a major inconvenience, so we'll work quickly and efficiently to get your door back up and running again. You don't have to worry about garage door emergencies no longer!
Your Local Garage Door Specialists
Hung Rite Garage Door has been a family-owned and operated company since 1984. Our team of garage door experts guarantees the quality of our work for all of our services. We use the original manufacturer's equipment or higher-quality products when replacing any parts. If you've got broken springs, we offer lifetime warranties for replacements. Our qualified technicians are here to provide you with a wide range of services at an affordable price for commercial and residential garage doors, including:
Garage Door Spring Replacement/ Garage Door Spring Repair
Garage Door Installation Services
Garage Door Opener Installation, Garage Door Opener Repair, and Garage Opener Replacement
Emergency Garage Door Services (Same-day Service)
Garage Door Maintenance Services (Residential and Commercial Garage Doors)
And More!
For friendly service and exceptional results, contact the experts at Hung Rite today!