We Are Your Local Garage Door Company In Glendale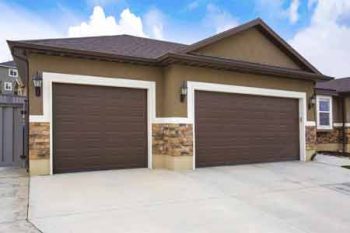 At Hung Rite Garage Door, we understand the importance of a beautiful home, both inside and out. Your garage door is an essential aspect of the appearance of your home's exterior and is one of the first things people see. If you are remodeling or planning to sell your home, installing a new garage door is a perfect way to improve your aesthetics.
Our team of garage door experts has years of experience providing garage door services to residential and commercial customers in Glendale and the surrounding areas. When it's time for a new garage door, give us a call!
Give Us A Call For A New Garage Door Today
Buying a new garage door is an investment, and there are numerous factors to consider, including the cost, size, material, insulation, style, and garage door openers. Our showroom near Glendale stocks a wide range of garage door brands, and our team of garage experts at Hung Rite is to help you find the perfect garage for your home or business.
Steel Garage Doors
Steel garage doors continue to be one of the most popular choices among homeowners for many reasons. These doors are available in a wide range of colors and designs. Additionally, steel doors have a relatively lower price range and are treated to prevent rusting, but they are also more prone to denting. The thickness of the steel correlates to its durability. You should consider the steel gauge when choosing a door; lower gauge steel is thicker and more durable.
Aluminum Garage Doors
For more modern designs, aluminum garage doors are a perfect option. You can pair these doors with frosted, clear glass, or acrylic windows or garage door panels. These doors are a popular choice for modern-style homes and commercial properties. Aluminum doors are not as durable as wooden doors, but they offer the advantage of being rust-resistant and lightweight.
Wood Garage Doors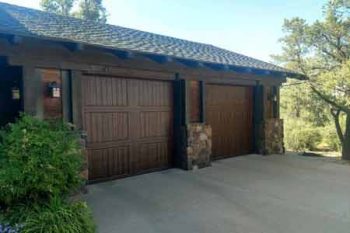 Wooden garage doors are an excellent option for homeowners looking for a higher-end aesthetic. While these doors typically come with a higher price stage, they also come with numerous advantages. Wood garage doors are extremely strong and durable, making them more resilient to dents and other damage. Additionally, these doors can be stained and painted to match the style of your home. However, because they are made from a natural material, they require more maintenance and upkeep. If you are willing to put in the work to maintain wooden garage doors, they will significantly increase your home's curb appeal and resale value.
We Provide The Reliable Garage Door Service You Need
At Hung Rite, our experienced technicians can resolve any garage door issues on nearly all brands of garage doors. We do not recommend trying to solve these problems yourself. Give us a call when you need any garage door services, including:
Garage Door Repair
Garage Door Installations
Garage Door Springs
Garage Door Replacement
We are your trusted supplier for garage doors in Glendale. Our team utilizes original manufacturer parts for all of our services, so you can rest assured that the quality of your door won't be affected. We offer customized steel panels with multiple finishing options so you can get the look you want. We also use MyQ technology, which allows you to activate your garage door and other products around your house using a computer or smartphone.
The Search For Garage Doors Near Me Is Over
If you have a faulty or broken garage door, need better insulation for your garage, or want to enhance your home or business's overall look and functionality, then visit our showroom to see the wide selection of garage doors we have available. We are your go-to company for custom garage doors and professional garage door services.