Which Is Better: Electric or Manual for Garage Door installation?
When considering which garage door installation type you should get, it's important to account for many different factors. Choosing between an electric or manual garage door can be challenging, but it doesn't need to be. Whether you're looking for an investment that'll last for years or simply functionality at an affordable price tag, it can help to make a checklist of what you need from either option before making a final decision.
Electric Garage Doors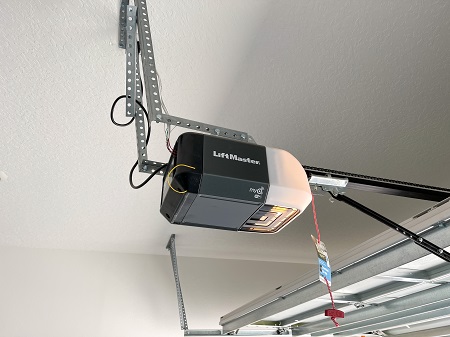 Sectional electric garage doors are the most popular type of electric door, and they allow homeowners to effortlessly get in and out of their garages with a mere press of a button. These doors can be composed of three to eight different sections that hinge together while affixed to rollers along a metal track. All of this leads to the mobility and convenience we've come to expect from our automatic home entryways.
There are five types of garage door openers:
Chain drive
Belt drive
Screw drive
Direct drive
Jackshaft
Convenient
Electric doors have revolutionized the concept of door automation, offering maximum convenience at the touch of a button or a wave of a hand. This modern technology has enabled us to enter and exit our homes, offices and other buildings with ease, comfort, and convenience. Some electric doors even feature motion sensors that automatically open upon detecting movement, so you don't have to lift a finger! The installation of electric doors is a major step up from traditional manual-actioned doors and provides effortless entry.
Better Safety
Beyond being faster and easier than manual doors, they are generally much safer. Should an object or a person find its way in front of the door as it is closing, the automated mechanism will detect this and quickly open back up – preventing any crushed items or devastating injuries. Manual doors do not possess such fail-safes, making it easy for unsuspecting surprises to get caught between the closing panels.
More Security
Homeowners store valuable items that require extra protection and security, making garage door safety an integral part of both home and vehicular protection. Investing in an automatic garage door is a simple step to guarantee peace of mind while keeping possessions stored safe and secure. Although manual garage doors can be locked by hand, they are not as effective as automatic ones when protecting your belongings from potential thieves. With an automated system installed, you can be more at ease knowing that your belongings and family members are secure from intruders. Automatic garage doors are designed with key codes, remote control, and alarms for additional security layers that detect unauthorized entry. Once sensed, such break-in attempts will be detected immediately, providing the best protection for homeowners.
Manual Garage Doors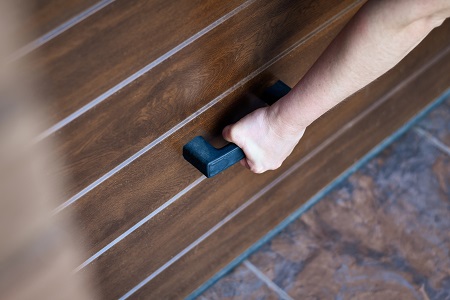 Manual garage doors operate by manually lifting them and securing them in place. Its generally seen that these kinds of doors are more common in older homes due to the effectiveness offered by their basic design. With the door being attached to large hinges, it allows for a smooth opening and closing.
Cost
With manual doors, you can save money on upfront costs, making it the more cost-effective solution for those on a tighter budget. Electric doors may initially appear cheaper in some cases but can quickly become expensive when repairs are factored into the equation. Ultimately, understanding the full costs of installation and maintenance should give you an idea of whether or not electric doors are worth it for your specific needs.
Maintenance
From convenience to cost savings, there are clear benefits to opting for a manual when considering your next-door installation. Aside from better up-front costs, manual doors offer the bonus of being considerably easier to maintain – small repair jobs such as replacing fittings and adjusting hinges can be done at home with relatively basic tools and instruction. Most routine maintenance tasks can be completed in just a few minutes, meaning time spent waiting for specialist help or worrying about pending repairs is kept to an absolute minimum.
Fewer Electric Problems to Go Wrong
Manual doors are known for being a reliable asset in any building. Whether it be a school, office space, or home, manual doors offer the convenience of a traditional lock and latch with no tricky electric components to complicate things. When you install a manual door, you don't have to worry about wires shorting out or malfunctions that can bring your security system to a standstill. You also don't have to buy batteries that may be necessary or worry about replacing them every few months, like with an electronic door opener – all you need is a solid handle and latch!
Need a New Garage Door Installation for Either Manual or Electric?
There's no better assurance of quality garage door installation services than with Hung Rite Garage Doors! Our experienced technicians understand that your garage door is an investment, making us the perfect choice to serve the area since 1984. With every installation, our garage door professionals take precise measurements and inspect the rest of your system for optimal performance. Our detailed expertise ensures you get the best service without any additional cost – that's convenience you can trust! Our flexibility will help you schedule a time that works around your busy lifestyle. The friendly team at Hung Rite Garage Door is here to answer all of your questions so don't hesitate to give us a call today!
More garage door services we provide:
Garage door repair services
Broken garage door spring repair services
Garage door replacement services
Garage door opener repair services
New garage door options
Residential and commercial garage door services
Benefits of choosing Hung Rite Garage Door:
Garage door emergency services with quick responses
Accurate estimates
Excellent customer service
High-quality products
A wide selection of top-rated materials
Family-owned and operated business
Read more About Us and find out who we are.