Types of Style & Design Ideas for Replacing a Garage Door
When was the last time you paid attention to your own or someone else's garage door? Chances are, it has just become a functional necessity – something that does not garnish much thought. But it doesn't have to be that way! There are plenty of ideas to give your garage door an amazing makeover so you can enjoy both the visual appeal of your home and the practicality of the door. Let go of accepted convention and make the most out of your home – starting with your garage!
Garage Door Panel Types
Garage panels provide an excellent way to spruce up your home. With so many beautiful styles and cover patterns to choose from, it's easy to find one that complements your existing décor.
Traditional Panel
Traditional panels are a classic choice for garage doors, as their name implies. These panel styles are certainly eye-catching, with an elegant symmetry that complements most styles of homes. In addition to adding a touch of charm and style to any home with more traditional aesthetics, traditional panels are also practical.
Raised Panel
Raised panels add an element of style and sophistication. The beautiful details on the perimeter of the raised panel give a more refined, thicker look than traditional flat panel doors while still providing a modesty that is subtle but sophisticated.
Contemporary Panel
If you're looking for a way to add style and elegance to your contemporary home, consider investing in a new minimalistic-style, modern garage door. From the industry-leading clear window openings to the seamless lines that perfectly match your exterior, no shortage of modern design details is sure to impress.
Flush Panel
A flush panel garage door gives any property a timeless and elegant touch. Its sleek design features no raised or lowered panels, creating an effortless and classy look. It is perfect for elevating a home's aesthetic without breaking the bank.
Carriage Panel
Carriage panels provide the perfect solution for those looking to make their home unique while keeping its old-fashioned charm. These panels are affordable and versatile, allowing you to keep your rural aesthetic while still customizing it to fit your taste and individual style – whether it be with crossbucks, windows, or other decorative fixtures.
Garage Door Material Types
Outfitting a home with the perfect garage door can make all the difference in functionality and style. Many homeowners find themselves at a crossroads when selecting the right material, as there are numerous materials to choose from, such as steel, wood, and aluminum. Depending on your budget, climate, and personal taste, one material may be better suited for you than another.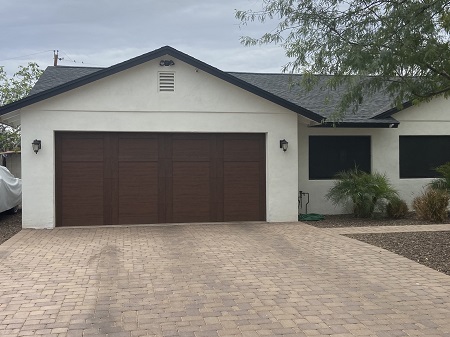 Wood
Wooden garage doors, such as mahogany and cedar, offer homeowners an attractive and timeless design option. Whether you prefer a modern, rustic, or classic aesthetic, wooden garage doors can be customized to fit your perfect vision.
Steel
Steel is the best garage door material for everyone, from the budget-minded homeowner to those seeking a sturdy, lasting solution. Steel stands up to daily use and inclement weather conditions thanks to its strength and durability.
Aluminum
If you're after an incredibly strong and durable option for your garage door but don't want to have the added weight of steel, then aluminum is a perfect choice. Its lightweight yet still rugged design is almost like having the best of both worlds.
Vinyl
Vinyl garage doors are an optimal choice for homeowners looking to make a statement and increase curb appeal. Not only are these doors aesthetically pleasing, reliable, and affordable – the maintenance required to keep them operational is relatively low.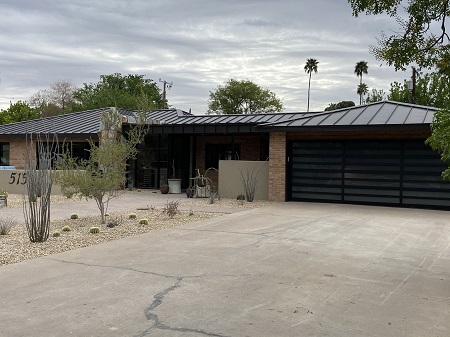 Glass
Garage glass doors provide more than just a unique luxury look to your full views. They also offer practical see-through capability, which can be fun if you want others to see through to your beautiful interior.
Popular Styles
Upgrading your home's garage door is an often overlooked project that can have a surprising impact on the look and value of your house. A high-quality garage door adds to the curb appeal of your property and creates a positive first impression.
Classic White Carriage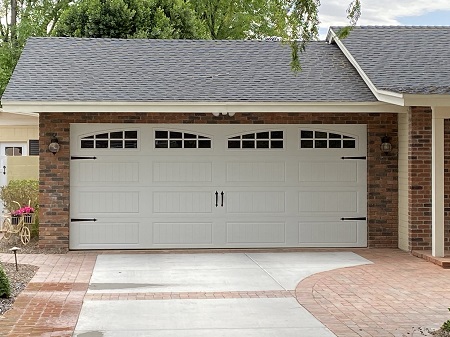 Carriage house garage doors evoke romantic images of horse-drawn carriages. These doors come in multiple materials, such as cedar, steel, or vinyl and can open either upward or swing out just like an old-fashioned gate. And, when coordinated with vintage architectural elements like dormers and shutters on your farmhouse-style home, carriage house-style doors look truly elegant and timeless.
Rustic
Wood garage doors offer unique features that make them a great option for those wanting to add character to their homes. They perfectly complement the look of more traditional styles and make a beautiful touch to contemporary homes as well. They give that rustic, old-fashioned look.
Modest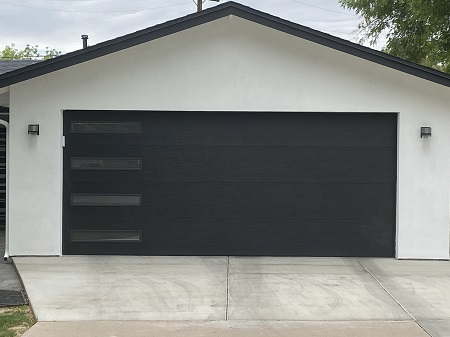 Modest door styles are known for being clean and minimalistic – perfect for creating a unified and elegant look. A simple, sleek door may be the ideal element for a home that wants to create balance and a blended appeal.
Contemporary
With contemporary garage doors providing the marriage of modern home design and function, it's worth considering how one could animate your home. Look for single-door style garage doors with vertical window panes to create an understated yet elegant look. Alternatively, you can add some pizzazz with a double- or triple-panel door that features unique architectural accents. Modern materials such as steel and aluminum provide basic colors like gray, black and tan, but if you want more vibrancy, explore your options with coatings that come in multiple hues.
Ranch Style
Ranch houses have a certain charm and are certainly distinctive, thanks to their single-level design and open-concept floor plan. They have small windows with a unique, distinguishable shape.
Hung-Rite Garage Doors Will Help Customize Your New Door
At Hung Rite Garage Door, we believe that the joy of waking up to a great day starts with a reliable garage door. That's why since 1984, our garage door specialists have been providing reliable and professional services to all our residential and commercial customers. We're a family-owned business committed to giving you the best garage door service while offering a wide variety of options for finding the perfect garage door for your home. Whether you need a simple installation or something more complex, our garage door experts can help you. Come visit our showroom today and find the perfect garage door you've been looking for!
The related services we offer:
Garage door openers
Garage door repair services
Garage door replacement services
Garage door installation services
Benefits of choosing Hung-Rite Garage Doors
Services to both residential garage and commercial garage customers.
Our garage door professionals can help design a custom garage door to meet your needs.
A wide variety of different types of garage doors.
Emergency services when you need same-day service (broken springs, torsion springs, other broken garage door issues)
High-quality products and excellent customer service.
Visit our About Us page for more information about our company.