Tips on Upgrading Your Garage Door Exterior for Curb Appeal
Your garage door is one of the most prominent features of your home's exterior and can greatly impact your property's curb appeal. Upgrading your garage door can be a simple and effective way to boost your home's appearance, increase its value, and enhance its overall curb appeal. In this guide, we will provide you with some useful tips and insights on upgrading your garage doors exterior and your front lawn surrounding it to create a welcoming and stylish entrance to your property.
Add Stone Accents Around Your Garage Door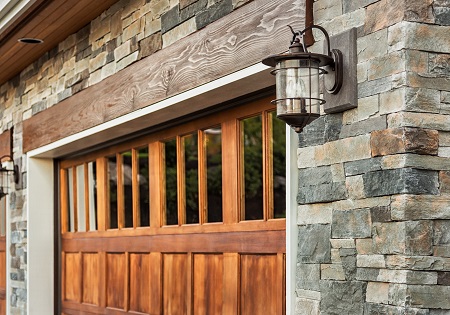 Stone veneer is an invaluable resource for any home improvement project, especially regarding garages. It provides a great accent, boosting the property's value and appearance. Increasingly sought-after in interior design projects, this material is becoming one of the most popular accents to add to garages.
Repaint Your Door
Spraying a new coat of paint on your garage door is the most convenient and efficient way to enhance its aesthetic. All you need to do is acquire high-quality paint, mix your desired color, and paint the door with a roller – this should take only a few hours.
To exude Arizona appeal, choose colors that match the desert vistas. Popular hues comprise the following:
copper
silver
golden browns
grays
umber
ochre
These will instantly enliven the visual appeal of your garage door. Accentuate those warm colors by adding purples, turquoise or blues – perfect for capturing that ever-warm Arizonian sun and vibrant azure sky.
Add Accent Lighting Above Door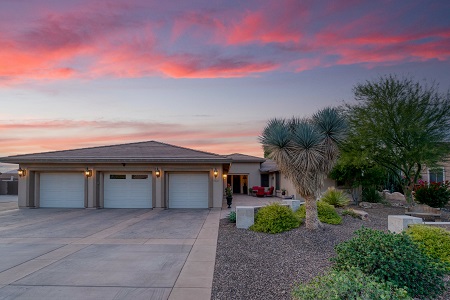 Incorporating lighting above your garage door will not only add beauty to your home, but it will also provide practical benefits like being able to more easily pull into the garage after dark. There is an array of outdoor lighting styles available, from classic lanterns to contemporary accent lights.
Install Windows in Garage Door
Windows are often overlooked for garage door remodeling, but installing them is surprisingly simple. Not only do they bring natural light into your garage space, but they also create a sense of dimension and can help your garage door to blend in more with the rest of your house.
Update and Maintain Landscaping
Landscaping can be a cost-effective way to increase the look of your home. Basic maintenance, such as mowing the grass, trimming the hedges and adding mulch, will help keep your front lawn looking neat and tidy. If you're looking for a more comprehensive landscaping project, hiring a professional will ensure that all of the details come together in an attractive and functional layout. For something extra, plant Arizona native plants around the space for definition and interest.
Update Garage Door Hardware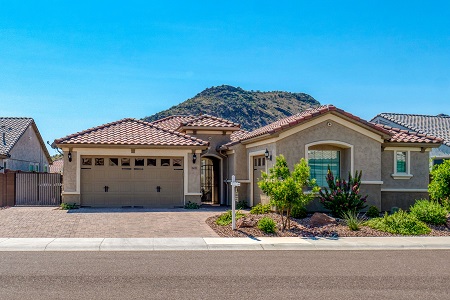 Updating your garage door hardware can be an easy, affordable way to give your home a fresh, new look. Not only is it a more budget-friendly option than replacing the entire garage door, but it also helps protect your property's value when you are trying to sell.
Repave Your Driveway
Blacktop is the perfect way to turn an old home into a brand-new one. The freshness of asphalt has a wealth of advantages, from vibrant blackness that catches the eye to an imperative level of smoothness without cracks. As asphalt ages and dries with time, cracks and ridges appear. Repaving helps return these hard surfaces back to their original pristine condition.
Get Insulation
Insulating your garage properly is one of the best ways to boost the efficiency of its systems, so think long-term and invest wisely in proper insulation. If your current insulation can't cover the walls and attics, cold/warm air will escape therefore causing your heating and cooling system to work harder. Not only that, but it also increases the amount of noise coming in (and out) of your home, not to mention that your electric bills will inevitably skyrocket.
Add a Smart Garage Door Opener System If Not Already in Place
Installing a garage opener enhanced with Bluetooth, remote, or keypad technology can make your life easier. With this technology, you will be able to open and close your garage from inside your car or garage. No more trying to find the keys in a mad scramble! Furthermore, it has enhanced security features, so you don't have to worry about unauthorized entry into your home.
Replace Your Trim
Adding detailed trim to your garage is a great way to make a statement. By choosing high-quality materials that match or contrast the color of your garage door, you can create an additional element of style that complements the overall space. Whether you are looking for simple lines or intricate designs, there are plenty of detailed trim options available to turn your plain garage into something special.
Design Tips on Complimenting Your Door to Rest of Home and Landscape
It is important to consider the use of your garage door when designing the front of your home. Find balance in the design by referring back to other strong features like the shutters, front door and trim. Contrasting colors can be used to emphasize specific design elements, making sure that your garage door stands out tastefully. The color options should incorporate whatever best suits the design of your home and the environment, ultimately complimenting existing features of your home's exterior.
Replace Your Whole Garage Door
Getting garage door replacement can be a great way to breathe new life into an older home. It is also an easy and fun way to give your house a fresh new look, with plenty of different styles available that are sure to fit whatever aesthetic you desire. Increase the value when flipping a house or even just to update its security.
Hung Rite Garage Door Is Here to Help Give You the Best Garage Door Service
At Hung Rite Garage Door, our garage door technicians understand the value of having a showroom with a wide selection to choose from when looking for new garage doors. From elegant and rustic to modern and classic designs, there is something for everyone. We customize models to fit your individual needs and have an array of accessories that can be added, such as automatic openers, keypads, remote controls, Bluetooth capabilities, etc. Additionally, if you're looking for insulation or repair services, our garage door experts can help with that as well. Our team of qualified professionals specializes in providing reliable service with attention to detail. Whether you're adding onto an existing home or spiffing it up before the sale, improving the look and functionality of your garage door is a great way to go about it!
Contact us today if you would like any further information on our professional services.
Other garage doors services our team of experts provides:
Garage Door Repair Services
Residential Garage Door and Commercial Garage Door Services
Emergency Garage Door Services
Broken Spring Repair Services
Benefits of choosing Hung Rite Garage Door:
Customer communication throughout the entire process.
An experienced team ready to help with any customer service needs.
A wide selection of garage door styles, durable materials, and garage door opener brands.
Visit our About Us page for more information about our company, or see our Gallery for work examples we have done.