Garage Door Preventative Maintenance Tips
Garage doors are often one of the most overlooked areas of a home or business when it comes to maintenance. However, they are also one of the most important components that can affect the overall security and functionality of a property. As a garage door service company, we highly recommend preventative maintenance to keep your garage doors in good working condition.
In this blog post, we'll share some garage door preventative maintenance tips that you can do yourself, as well as some professional services that can help keep your garage doors running smoothly and extend their lifespan.
DIY Garage Door Maintenance Tips
1. Regularly Clean Your Garage Door
One of the easiest things you can do to maintain your garage door is to keep it clean. Dirt, dust, and other debris can accumulate on the door itself and especially on the tracks, which can affect its movement and cause it to wear down faster. You can prevent this by cleaning your garage door with soap and water and making sure to remove any debris that may be blocking the tracks.
2. Inspect the Door's Hardware
Check the hardware on your garage door regularly, including the springs, rollers, and hinges. Look for any signs of damage or wear, and replace any components that are showing signs of wear and tear. It's essential to do this because damaged hardware can lead to a malfunctioning garage door, which can be dangerous. If you do not have experience with this, please contact your local garage door service.
3. Lubricate Moving Parts
To keep your garage door running smoothly, you need to keep its moving parts lubricated. Apply a lubricant, such as silicone spray, to the rollers, hinges, and other moving parts of your garage door. This will help prevent friction and extend the lifespan of these components.
4. Test the Door's Safety Features
Garage doors come with safety features, such as auto-reverse and photoelectric sensors, which are designed to prevent accidents and injuries by detecting if something or someone is in the way. It's essential to test these features regularly to make sure they are working correctly. To test the auto-reverse feature, place an object, such as a cardboard box, in the door's path as it's closing. If the door doesn't reverse, you need to have it checked by a professional.
Professional Garage Door Maintenance Services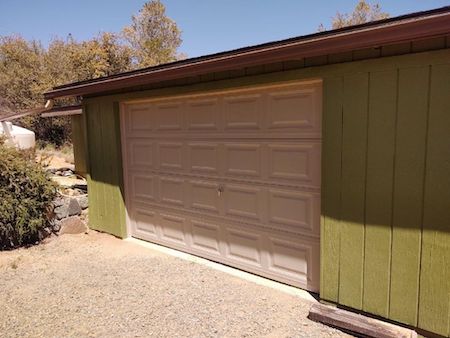 While there are some garage door maintenance tasks you can do yourself, there are also some tasks that are best left to professionals. Here are some professional garage door maintenance services that we offer:
1. Garage Door Tune-Ups
A garage door tune-up is a professional service that involves a thorough inspection of your garage door and its components. A trained technician will inspect the hardware, lubricate the moving parts, and test the door's safety features. They will also make any necessary adjustments to ensure your garage door is operating correctly.
2. Spring Replacement
Garage door springs are one of the most critical components of a garage door, and they can wear down over time. When a spring breaks, it can cause the garage door to malfunction, and it can be dangerous. If you notice any signs of wear or damage to your garage door springs, it's essential to have them inspected and repaired or replaced by a professional.
3. Cable Replacement
The cables on your garage door are responsible for lifting and lowering the door. If the cables are worn or damaged, they can cause the door to malfunction or even fall off the tracks. A professional garage door service company can replace these cables and ensure your garage door is safe and functional.
4. Panel Replacement
If your garage door panels are damaged or showing signs of wear, it may be best for them to be replaced. Damaged panels can affect the overall appearance of your garage door and may even affect its functionality. A professional garage door service company can replace these panels and ensure your garage door looks and operates like new.
Your Local Garage Door Experts
Hung Rite Garage Door has been a family-owned and operated company since 1984. Our team of garage door experts guarantees the quality of our work for all of our services. We use the original manufacturer's equipment or higher-quality products when replacing any parts. If you've got broken springs, we offer lifetime warranties for replacements. Our qualified technicians are here to provide you with a wide range of services at an affordable price for commercial and residential garage doors, including:
General Garage Door Repair
Garage Door Spring Replacement/ Garage Door Spring Repair
Garage Door Installation Services
Garage Door Opener Installation, Garage Door Opener Repair, and Garage Opener Replacement
Emergency Garage Door Services (Same-day Service)
Garage Door Maintenance Services (Residential and Commercial Garage Doors)
And More!
For friendly service and exceptional results, contact the experts at Hung Rite today!