Factors to Consider When Choosing a New Garage Door
Your garage door is more than just a functional entryway to your home – it's also a statement piece that can greatly enhance the aesthetic appeal of your property. But with so many options out there, how do you know which one to choose? In this post, we'll take a look at some of the most important factors to consider when selecting a new garage door.
1. Material
Choosing the right material for your garage door is important for both its appearance and durability. Popular materials include:
Wood: classic and elegant, but requires regular maintenance
Steel: durable, low-maintenance, but can rust if not treated properly
Aluminum: lightweight, affordable, but may dent or bend easily
Fiberglass: moisture-resistant, good for coastal environments, but can crack or fade over time
Vinyl: low-maintenance, durable, energy-efficient, but may not offer as much customization
Ultimately, your choice will depend on your personal preferences, budget, and location. Keep in mind factors like durability, maintenance requirements, and aesthetic appeal when making your decision.
2. Style
When choosing a garage door, consider the style that will best match the architecture of your home and your personal taste. Popular styles include traditional, contemporary, and carriage house. Traditional garage doors are typically made of wood and have raised panels, while contemporary doors are sleek and often made of materials like aluminum and glass. Carriage house doors are inspired by old-fashioned barn doors and can add charm to your home's exterior. Ultimately, the style of the door you choose falls on personal preference. With that said, we always suggest that you look for a garage door that complements the overall design of your home.
3. Insulation Level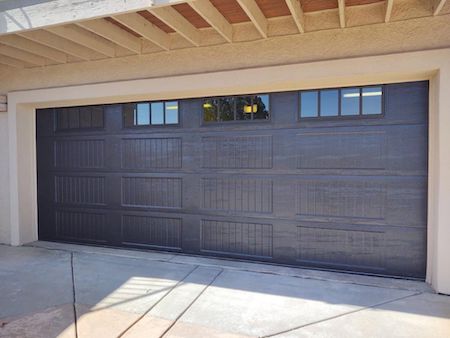 Insulated garage doors can help you save on energy bills, especially if your garage is attached to your home. This is because insulation helps to regulate the temperature inside your garage and prevents heat loss during the winter and heat gain during the summer. Insulated garage doors are also quieter and more durable than non-insulated doors. If you live in an area with extreme weather conditions, such as high temperatures or heavy snow, consider getting a garage door with a high R-value, which indicates the level of insulation.
4. Safety and Security Features
Your garage door is an entry point to your home, so it's important to ensure that it's secure. Look for garage doors with features like sturdy locks, heavy-duty springs, and tamper-resistant brackets. You can also install additional security measures like motion detectors and security cameras to keep your home safe. Keep in mind that most safety and security features can add to the cost of the garage door.
5. Size
Garage doors come in different sizes, so it's important to measure your garage opening before purchasing a new door. Measure the width and height of the opening to ensure that the door fits properly. Garage doors that are too small or too large can cause problems like gaps, drafts, and strain on the opener. If you're not sure about the size, consult with a professional garage door installer. As your local garage door service provider, we recommend that your work with a professional garage door company/installer during the whole process. This will ensure everything goes smoothly and will help avoid potentially costly mistakes.
6. Budget
Garage doors come at different price points, so it's important to consider your budget before making a purchase. The cost of a garage door depends on factors like material, style, size, and insulation. A basic non-insulated garage door can cost as little as a few hundred dollars, while a high-end insulated garage door with custom features can cost several thousand dollars. Keep in mind that a high price doesn't always guarantee quality. Be sure to discuss these details with your garage door provider.
Your Local Garage Door Service
Hung Rite Garage Doors are a locally-owned and family-operated garage door company, that has been serving the community since 1984. Our experienced technicians have the skill set to provide exceptional repairs, installations, and replacements on any garage door and opener from any manufacturer. With over 39 years of experience in the garage industry, we've seen and fixed nearly every problem there is for both residential and commercial doors.
We offer a wide range of garage door services, including: 
Garage Door Spring Replacement/ Garage Door Spring Repair
Garage Door Installation Services
Garage Door Repair Services
Garage Door Opener Installation, Garage Door Opener Repair, and Garage Opener Replacement
Emergency Garage Door Services (Same-day Service/Emergency Service)
Garage Door Maintenance Services (Residential and Commercial Garage Doors)
And More!
Our spacious showroom boasts a wide selection of garage doors and products at competitive prices, catering to both aesthetics and functionality. Whether you're looking to enhance the look of your home or increase its security, we're dedicated to finding the right solution for you.
At our company, we take pride in offering personalized service and treating every customer like family. We understand that your garage door is a vital aspect of your home, and we're committed to providing the best possible service to ensure it stays in good working condition. Contact us today to schedule a service, or visit our showroom to explore our extensive collection of garage doors and products.