Benefits of Installing a New Garage Door
As a reputable garage door company, we understand the importance of both functionality and aesthetics when it comes to your home. One often overlooked aspect that can significantly enhance your property's value and curb appeal is the installation of a new garage door. With advancements in technology and design, modern garage doors offer a plethora of benefits that go beyond simple convenience. In this blog post, we will delve into the remarkable advantages of installing a new garage door, transforming your home into a haven of style, security, and efficiency.
Elevate Your Home's Curb Appeal:
Your garage door is more than just a functional entry point; it is a prominent feature that significantly impacts your home's curb appeal. Installing a new garage door allows you to rejuvenate the overall aesthetic of your property, enhancing its visual appeal and creating a positive first impression. With a vast array of styles, materials, and finishes available, you can choose a design that perfectly complements your home's architecture and personal taste. Whether you prefer a sleek and modern look or a traditional and timeless appeal, a new garage door will undoubtedly enhance the overall beauty of your home.
Enhanced Security and Protection:
Your garage is not just a place to store vehicles; it often serves as an additional entrance to your home. Investing in a new garage door means investing in the safety and security of your family and possessions. Modern garage doors come equipped with advanced security features such as rolling code technology, sturdy construction materials, and robust locking mechanisms. These elements act as a formidable deterrent against unauthorized entry, providing you with peace of mind knowing that your loved ones and valuables are protected.
Improved Energy Efficiency:
Did you know that an old or poorly insulated garage door can lead to significant energy loss and increased utility bills? By replacing your outdated door with a new, energy-efficient model, you can effectively seal your garage from outdoor elements, preventing unwanted drafts and heat transfer. Many modern garage doors feature advanced insulation materials, weatherstripping, and thermal seals, ensuring optimal energy efficiency. Not only will this result in more comfortable temperatures within your garage, but it will also reduce the strain on your home's heating and cooling systems, ultimately saving you money on your energy bills.
Quieter and Smoother Operation: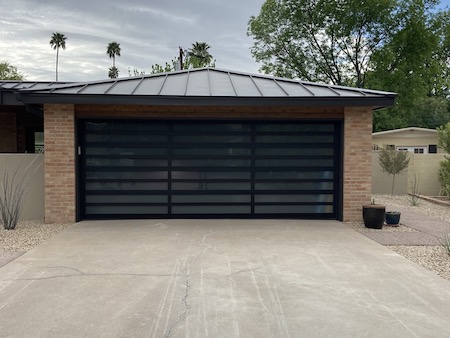 Are you tired of the loud, clunky noises emitted by your old garage door every time you open or close it? Upgrading to a new garage door can dramatically improve the operation and overall functionality of your garage door system. Modern garage doors utilize cutting-edge technology, such as belt-driven or screw-driven openers, which provide quieter and smoother operation. You can now say goodbye to the jarring noises that disturb your household and enjoy a seamless, hassle-free experience every time you use your garage door.
Increased Property Value:
When it comes to enhancing the value of your home, a new garage door is an investment that yields significant returns. Studies consistently show that a visually appealing, well-maintained garage door can increase your property's value and attract potential buyers. It creates a positive first impression and sets your home apart from others in the neighborhood. By installing a new garage door, you are not only improving your day-to-day living but also making a wise financial decision for the future.
Conclusion:
As a leading garage door company, we strongly advocate for the installation of a new garage door to experience the countless benefits it brings. From elevating your home's curb appeal and enhancing security to improving energy efficiency and increasing property value, a new garage door is a valuable addition to your home. Embrace the innovation and style of modern garage doors, and unlock the potential to transform your living space into a haven of comfort, security, and sophistication.
Your Local Garage Door Company
Hung Rite Garage Doors has been a family-owned and operated company since 1984. Our team of garage door experts guarantees the quality of our work for all of our services. We use the original manufacturer's equipment or higher-quality products when replacing any parts. If you've got broken springs, we offer lifetime warranties for replacements. Our qualified technicians are here to provide you with a wide range of services at an affordable price for commercial and residential garage doors, including:
General Garage Door Repair
Garage Door Replacement
Garage Door Spring Replacement/ Garage Door Spring Repair
Garage Door Installation Services
Garage Door Opener Installation, Garage Door Opener Repair, and Garage Opener Replacement
Emergency Garage Door Services (Same-day Service)
Garage Door Maintenance Services (Residential and Commercial Garage Doors)
And More!
Contact our experienced team today to explore the diverse range of options available and begin your journey toward an upgraded garage door experience.