We Are Your Local Garage Door Replacement Company In Cottonwood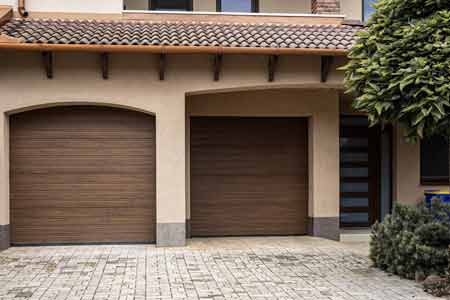 Whether your garage door is broken or you want to upgrade it, when it's time to replace your door, trust the experts at Hung Rite Garage Door to get the job done right. Our team of garage technicians has years of experience replacing residential and commercial garage doors in Cottonwood and the surrounding areas. Unlike other garage door companies, we do not subcontract our services, and we don't try to sell you products that you don't need. We pride ourselves on being an honest and reputable company that puts our customers first.
Installing a new garage door is a significant investment that can greatly benefit you and your home's value. Not only is there an aesthetic advantage with different styles and materials that can increase your curb appeal and resale value, but there are also mechanical components like a new garage door opener, advanced technology, and safety features that improve the functionality of the system. Our team is here to provide you with professional garage door repair, replacement, and installation services.
Garage Door Replacement Service
Our team of garage door experts guarantees the quality of our work for all of our services. We use the original manufacturer's equipment or higher quality products when replacing any parts. If you've got broken springs, we offer lifetime warranties for replacements. Our expert technicians are here to provide you with a wide range of services, including:

Spring replacement
Section and panel replacement
Roller and track alignment problems
Remotes, transmitters, and openers
Liftmaster opener installation
Hinge replacement
Full door replacement
Custom wooden panel finishes
Commercial steel and aluminum doors
Cable replacement
Our goal is to ensure that every customer we work with receives the best possible garage door services at prices they can afford. We have years of experience working with numerous brands of garage doors and are confident we can handle any problem you have.
If You've Got A Broken Garage Door Give Us A Call Today!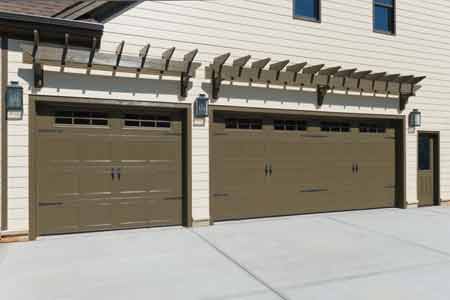 At Hung Rite, we understand that garage doors can break for several reasons, like broken garage door springs, the door coming off the track, rollers coming out, or the cable coming off. Whatever the reason, our team is here to provide professional garage repair services when you need them most.
Our qualified service technicians have years of experience installing and repairing garage doors. We are able to diagnose your problems and start repairs quickly. We don't use subcontractors or third-party technicians, so you can be assured anyone working on your door is licensed and insured.
The Search For Reliable Garage Door Replacement Near Me Is Over
Our team at Hung Rite strives to provide the quality services you need at the prices you deserve. Whether you need garage door repairs, garage door installation, or emergency service, we are here to help. We take pride in our excellent customer service and encourage everyone to visit our showroom where they can find the perfect garage door for their home or business.
Hung Rite Garage Door has been a family-owned and operated company since 1984. Since day one, we have provided our residential and commercial clients in Cottonwood and the surrounding areas with professional and reliable services. Our employees are not paid on commission or upselling, so you can be confident that we won't try to pressure you into buying products or services that you don't need. For friendly service and exceptional results, call the experts at Hung Rite today!
Common Garage Door Service Questions
How often should I have my garage door serviced?
It is recommended that you have your garage door serviced at least once a year. However, if you use your garage door frequently or notice any unusual noises or movements, it is recommended to have it serviced more frequently.
What is included in a garage door service?
A garage door service typically includes an inspection of all components of the garage door system, lubrication of moving parts, tightening of hardware, adjustment of springs and cables, and testing of the door's balance and safety features.
How do I know if my garage door needs repairs?
Some signs that your garage door may need repairs include slow or jerky movement, loud or unusual noises, difficulty opening or closing, or uneven movement. If you notice any of these signs, it is recommended to have a professional inspect and repair your garage door.
Can I perform garage door repairs myself?
While some minor repairs such as lubrication or tightening of hardware can be done by homeowners, most garage door repairs should be performed by a professional. Attempting to repair your garage door without the proper knowledge or tools can be dangerous and may cause further damage.
How much does garage door service cost?
The cost of garage door service can vary depending on the location, the extent of the service needed, and the company providing the service. It is recommended to obtain quotes from several reputable garage door service providers to compare prices and ensure quality service.