We Are Your Local Garage Door Opener Installation Experts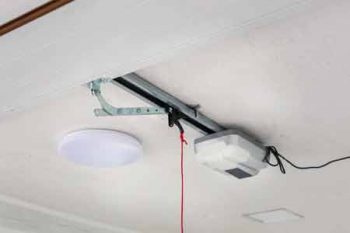 At Hung Rite Garage Door, we understand that most people use their garage multiple times throughout the day, which is why it is critical to have a reliable opener. Whether your current opener is broken, you're installing a new garage door, or you're simply looking to upgrade, we are happy to help you find the perfect garage opener for your needs.
Our team of garage experts provides a wide range of garage door services to home and business owners in Phoenix and the surrounding areas. If you need garage door repair, garage door installation, or repair for broken garage door springs, we are here to help!
Give Us A Call For Garage Door Opener Repair In Phoenix
If your garage door opener hasn't been functioning the way it should lately, we can help. Here are a few signs that indicate you may need to replace the opener:
The wall button or remote doesn't trigger a response from the garage door.
The door sticks part way between open and closed.
The door closes and then immediately opens again.
The noise from the garage door is very loud.
Opener runs but won't open the door.
The opener is more than 15 years old.
In some of these cases, you may not need a garage door opener replacement. For example, if your garage door starts to close and then opens again, you might have a dirty or blocked photo-eye. Our team of knowledgeable technicians can help you determine the cause of your malfunctioning door so that you can get in and out of your garage with ease.
For The Best Garage Door Openers Contact Us Today
With over 30 years of garage door service experience, you can rely on the team at Hung Rite Garage Door to get the job done right the first time. We work hard to ensure you are happy with the service and the results.
Let us improve the function of your garage door with a brand-new opener. We provide a wide range of garage door opener replacements from proven brands, including:
LiftMaster
Raynor
Amarr
Wayne Dalton
Genie
Clopay
Chamberlain
Craftsman
Types Of Garage Openers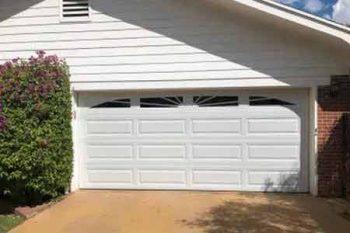 There are four basic types of garage openers, and while they all perform the same duty, their main difference is the driving component in which they operate. When selecting your opener, you should consider the price, horsepower, noise level, and additional products you may want, like keypads, remote controls, and Bluetooth capabilities. Our team of expert technicians is here to help you select the best garage opener for your residential or commercial property. We recommend the Liftmaster opener. These openers are able to be controlled from your phone.
Chain-drive openers operate using a metal chain that lifts and lowers the door. These openers are the most affordable making them a popular choice among homeowners. However, because they use a metal chain, they produce more noise than other opener styles and require more maintenance.
Belt-drive openers use a rubber belt to open and close the door, resulting in much quieter operating. Additionally, these openers require less maintenance and are an ideal choice for all homes.
Screw-drive openers utilize a threaded steel rod which provides numerous benefits. These openers are durable, reliable, and have fewer moving parts, producing even less noise and requiring even less maintenance.
Direct-drive openers have quickly climbed the ranks to be one of the best types of openers. Instead of a chain, belt, or screw rod, direct-drive openers eliminate as many moving parts as possible and operate as a whole. The entire motor moves along the track to open and close the garage door, resulting in the quietest option with almost no maintenance required.
We also have several different options to choose from when it comes to your garage door opener style. You can get a chain-driven, belt-driven, screw-driven, or jackshaft opener. We also offer side mount openers in addition to conventional types.
When You Need A Commercial Garage Door Opener We Are Here To Help
Because commercial garage doors are much larger and heavier than residential doors, they require stronger openers. At Hung Rite Garage Door, we understand that our commercial customers need a durable and long-lasting opener to keep up with the high-frequency use of their door. Our team of service technicians handles not only the installation of your new opener but also the repairs. Over time, different parts may need to be repaired or replaced, and when that happens, we always use the same manufacturer parts or better.
At Hung Rite Garage Door, we are here to help with any garage door service you may need, from broken springs and installations to repairs and replacements; we are your go-to garage service company! Our team focuses on safety, reliability, and quality without compromising our excellent customer service.