Get Professional Garage Door Spring Repair In Prescott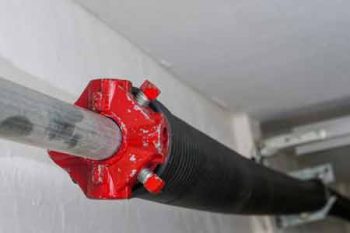 Your entire garage door system operates using hundreds of different parts, including springs, rollers, tracks, cables, garage door openers, and more. At Hung Rite Garage Door, we understand every component, how they work, different brands, and how to install, repair, and replace them. The garage door springs are one of the most essential parts of the system; without them, you wouldn't be able to open or close the door.
While these springs are designed to be durable and long-lasting, they will wear out and need to be repaired or replaced over time. We provide these spring services to residential and commercial customers in Prescott and the surrounding areas. When you need help with your garage door springs, give us a call, and we will send an expert technician as soon as possible.
Garage Door Torsion Springs
Torsion springs are located above your garage door and are fitted with a metal piece at the end called a cone that connects to a metal tube. These springs operate by twisting and untwisting when opening and closing your door. The springs unwind as the door opens, and the tension holds the door open. When a spring fails, the garage door may open lopsided — think of a broken set of window blinds. If both springs fail, your garage door may not open at all. Depending on the size and weight of your door, you may need more than one spring. The springs are tightened based on the weight of the door. For example, a 100-pound door will have two springs that can each hold 50 pounds of pressure to keep the door open.
Garage Door Extension Springs
Extension springs run along the side of your garage door and are connected to a pulley. There are three basic types of extension springs, single loop, double loop, and clip. The single loop springs connect to the pulley with one loop of metal, the double with two, and the clip with a durable piece of metal. These springs open and close your door by expanding and contracting. When the door is open all the way, these springs are fully extended and hold the entire weight of the door, which is why it is very dangerous and not recommended to repair or replace these yourself.
Give Us A Call When You Need A Garage Door Spring Technician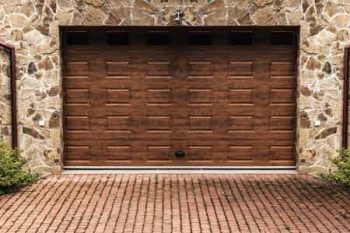 A garage door is the largest moving object in your home, and because of the large number of parts, installing a garage door is highly technical. Connecting the springs can be particularly dangerous, and proper replacement is critical to the performance of your door. Professionals at Hung Rite Garage Door can typically get the job done in a few hours and are careful to follow all safety requirements. Trying to replace your door or springs requires special tools, heavy lifting, and a thorough understanding of how everything works. Doing it yourself can not only lead you to become frustrated but also void certain warranties, so we recommend that a trained garage door installer handle the job for you.
At Hung Rite Garage Door, we sell springs for pick-up; however, it is highly recommended that you hire a professional for installation. Your springs are key to the proper function of your garage door, and different types of springs react differently, making some even more dangerous than others. A Hung Rite Garage Door repair man will be able to easily identify which type of spring your model is using (torsion or extension), diagnose your spring problem, and restore service to your garage door safely. Many spring-related injuries result from well-intentioned amateurs while trying to fix their own broken garage doors. It is much safer for homeowners to leave garage door repair and spring replacement to a professional garage door company like Hung Rite Garage Door.
When It's Time For A Garage Door Spring Replacement We're Here To Help
Our garage door repair professionals are qualified experts, most with years of experience servicing and installing garage doors. Our technicians can quickly diagnose and fix any garage door problem. Not only will your estimate for the necessary work happen faster, but you will also have the benefit of knowing that a reputable team will complete your repair work. Moreover, we can also alert you about potential problems you were unaware of. At Hung Rite Garage Door, we focus on safety, quality, and excellent customer service. When you need any garage door services in Prescott, give us a call!